Márcio Tubino
(born 1963, reeds and percussion)
Musician, music teacher, composer
Education as flautist and saxophonist in Brazil under the likes of Maestro Paulo Moura, Prof. Valiati, Prof. Kieler, Prof. Hess, Prof. Prediger, Prof. Otavio

From 1979 freelance artiste in Brazil, since 1989 in Munich
Awards: 1984 and 1986 best musician at Musikanto (Latin-American music festival in Brazil); 1986 and 1987 best saxophonist and flautist of Rio Grande do Sul (southern state of Brazil)

Frequent tours in Brazil and Europe
Cooperated on 25 CDs plus five CDs with his own Jazz Brazil formation Raiz de Pedra, including Egberto Gismonti

Appearances with the likes of Egberto Gismonti, Joe Zawinul, Toninho Horta, Djalma Corrêa, Monty Alexander, Toots Tielemanns, Wolfgang Laekerschmid, Rosanna e Célia


Michael Mandl (born 1962, percussion and guitar)

Musician, music teacher, composer
Studied social education

Since 1992 independent music activities (initiator of Klangfarben, concert and course organizer, DJ, freelance artiste), Teacher for Percussion at a Public School
Self-educated, study of rhythmics and sitar in India and Senegal with master drummers, lessons with Glen Velez, Nippy Noya...

National Appearances between Flensburg and Munic
International Appearances in Europe, America, Asia & Africa
Since 1994 several cooperation with Goethe Institute
1999 cooperation on radio play music with Hesse Broadcasting Corporation (HR)

Music for: readings, series of paintings, theater, private viewíngs and performances, discothèques, radio plays, films (("Espirito de Televisao", "Nosferatu", "Berlin. A City Symphony", "The Blood of a Poet")


Since 2007 Fredy Granzer (born 1960, accordeon, piano, violin) has contributed to the "5 minute heroes" for "Nosferatu".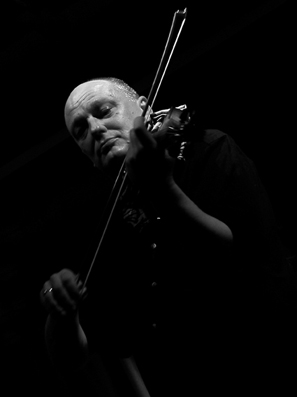 Musician, music teacher, composer

Studied philosophy and music sciences

rich repertoire from classical music, salon music, afro-cuban music to jazz, avantgarde and free improvised music.
numerous live-improvisations for movies and art actions at home and abroad, engagements for various theatre productions (Theater Regensburg, Südostbayerisches Stadttheater, Nationaltheater Weimar).
Compositions for:
theatre, classical ensembles and silent movies ("The Last Man", "Nanuk, the Eskimo", "Tabu", "Dr. Caligari", "Piz Palu" and more.